Miriam is a Moroccan-American Mom. She loves cooking and baking.I met her through my friend Estelle's  instagram, we chatted  online about this photo shoot, finally we had made it happen. The Moroccan almond cookie and Mint tea were served to welcome me at her house. That's my first time to try them, I have to say I absolutely love them.
In Kennett Square, I have met people from all over the world. It's such a wonderful place to live.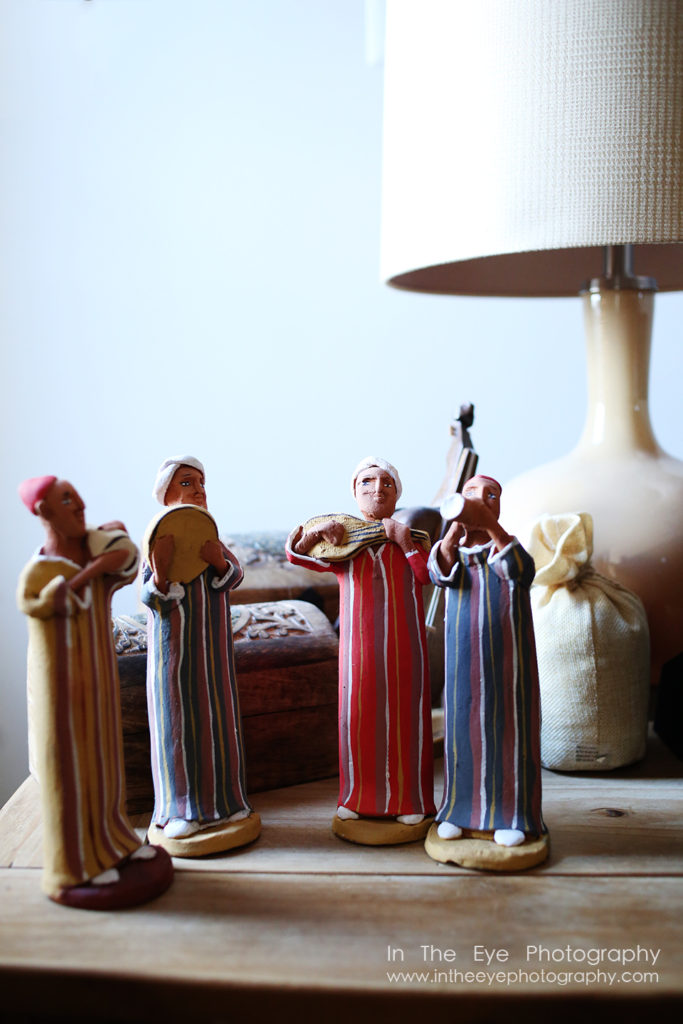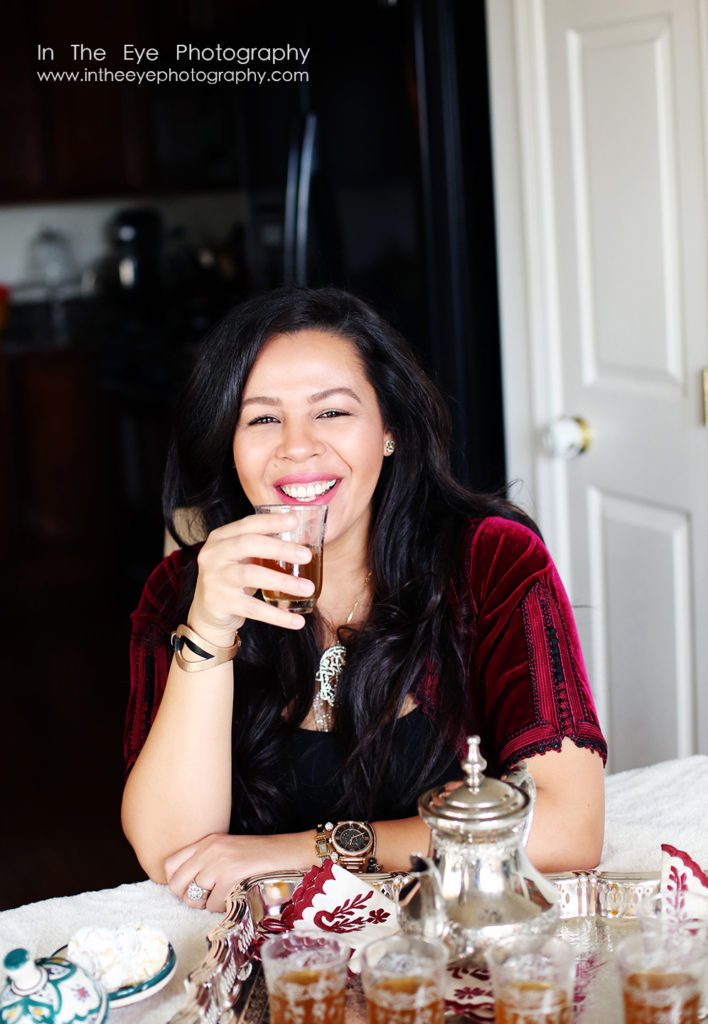 Can you tell us a little bit about yourself?
I'm a wife a mom of two very busy kids, a Moroccan cuisine foodie and a lover of  everything and anything Moroccan. I'm very passionate about Moroccan cuisine and  culture. And love to share my passion with everyone.
I was born and raised in Casablanca Morocco and since I can remember cooking was a very important aspect in my life. My moms made sure I was always present along side with her and my late grandmother in the kitchen. If I wasn't cooking I was watching and learning. Most of the  authentic dishes I learned and I can say I master now is because of her. I still call her to ask about how to make this or what spices I can add to a specific dish.
In 2008 I moved to the United States to marry the love of my life and my cooking fan  number one, and ever since it has been a life full of adventures and lots of food. It  wasn't easy at the beginning leaving everything behind and starting a new life thousands of miles away, and there are still times that I get home sick but I always find comfort and refuge in the kitchen. Baking and cooking are for me more of a therapy for  the soul than just fuel for the body. But I can say now that I'm so lucky and proud to call two different part of this earth HOME. Living in the United States has also influenced my taste in cooking. I enjoy a good burger or a Philly cheese steak from time to time, I  would make a Moroccan koufta (well seasoned ground beef) into a juicy burger and there I have the best of both worlds.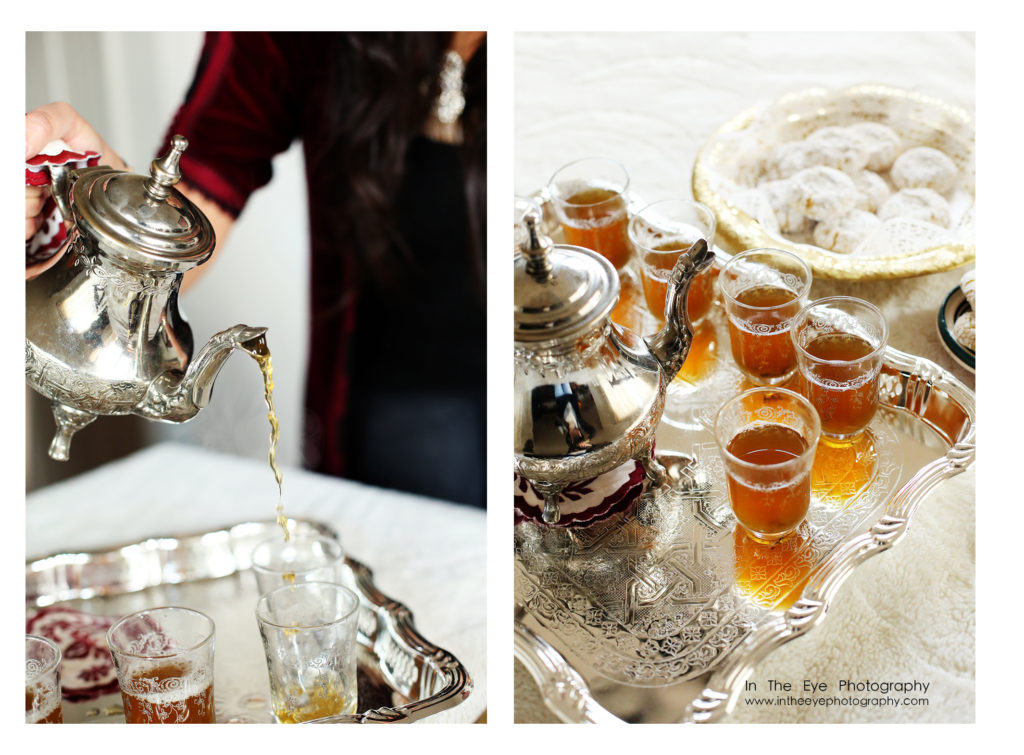 What's your favorite Moroccan dish to cook and why?
It's very hard for me to choose a favorite Moroccan dish; it always depends on my mood and what I crave at the moment. Sometimes it's the sweet and savory chicken pastilla: a festive dish served on special happy occasions. On Fridays I like to make the Moroccan national dish which is Couscous with lamb or beef and veggies, my kids love it. On cold days I like to make hearty dishes like Rfissa: a dish made with chicken, lentils and tons of onions on top of shredded crispy, flaky break) and sometimes a simple lentils soup or harirra soup can do.
But I really have a soft spot for sweets. I love baking and there are a lot of varieties of cookies and a mix of ingredients is used in Moroccan pastries, for instance: the orange blossom water, rose water, dates, almonds and all sort of nuts and just the right amount of sugar.
I like to make the Moroccan almond (ghriba) cookie. it is one of my favorite, It's soft, chewy and full of flavors.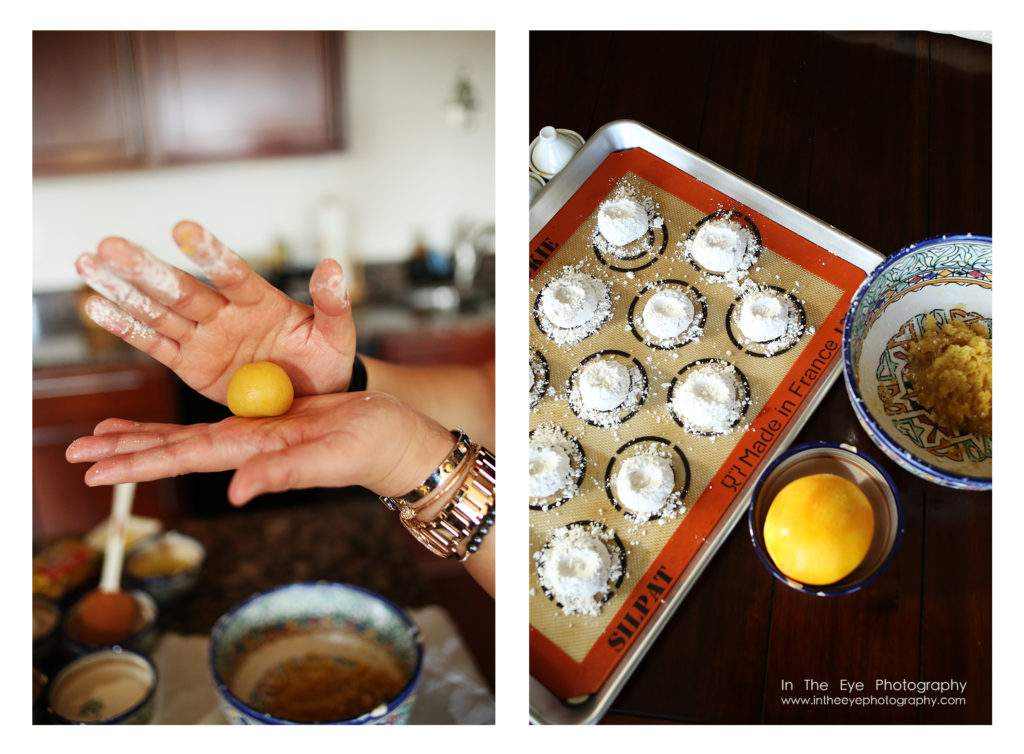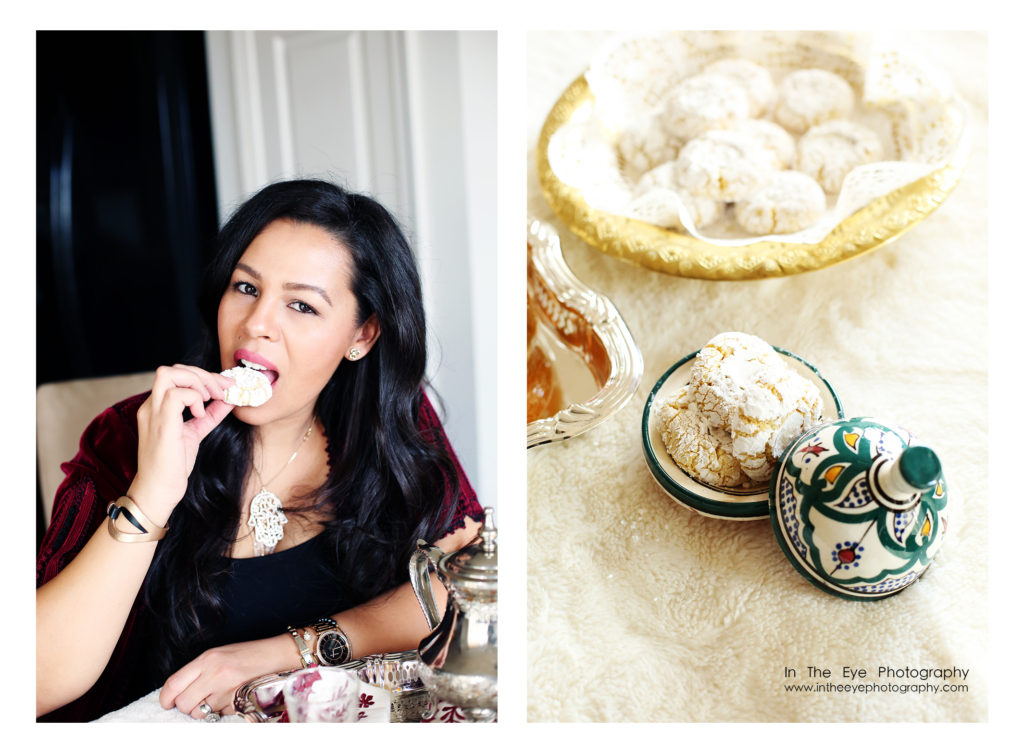 Can you give us the recipe of this Moroccan cookie? 
Moroccan almond cookies (ghriba dellouz) 
2 1/2 cup almond flour
1/2 cup sugar
1/2 tsp baking powder 
1tbs butter at room temperature 
1 whole egg and 2 yolks 
2tbs flour
1 tbs apricot jam
Zest of 1 orange or 1 lemon 
1/8 tsp salt
     1 cup powdered sugar for coating.
      And some orange blossom water to coat our hands
Preheat the oven to 375 f
In a food processor mix the almond flour with sugar and salt until well blended.
In a large bowl combine the almond sugar mixture, flour, the baking powder, lemon or orange zest, the butter and the apricot jam, mix very well with a spatula or your hands. I love working with my hands. Coat your hands with some orange water blossom and form balls about 1inch each.
Coat them generously with the powdered sugar. Place in a baking sheet covered with parchment paper, press slightly with your thumb. Don't flatten them just a slight push.
Bake for 10 to 12 mins the cookies are done when they form a nice crinkles and take a round nice shape without browning.
 Remove from the oven and let cool before transferring to a cooling rack.
Enjoy with some freshly made Moroccan mint tea.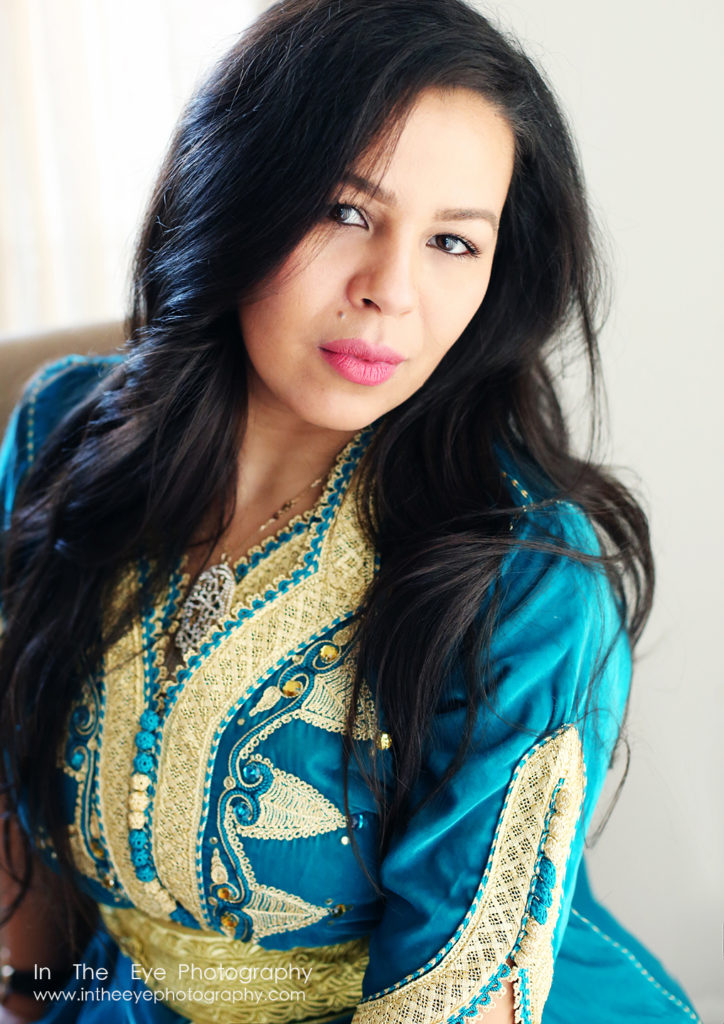 How long have you been living in Kennett Square?
We have been living in Kennett Square for almost 7 years now and we love it here. It's is very safe and diverse and I feel very welcomed and accepted. I made so many friends here and I'm happy our kids are making childhood memories in this town.  Kennett square keeps getting better year after year. New shops and restaurants have opened, incredible coffee places, wonderful houses and neighborhoods, and a great school system. Here in Kennett square I really feel the sense of community and belonging and I couldn't have asked for more.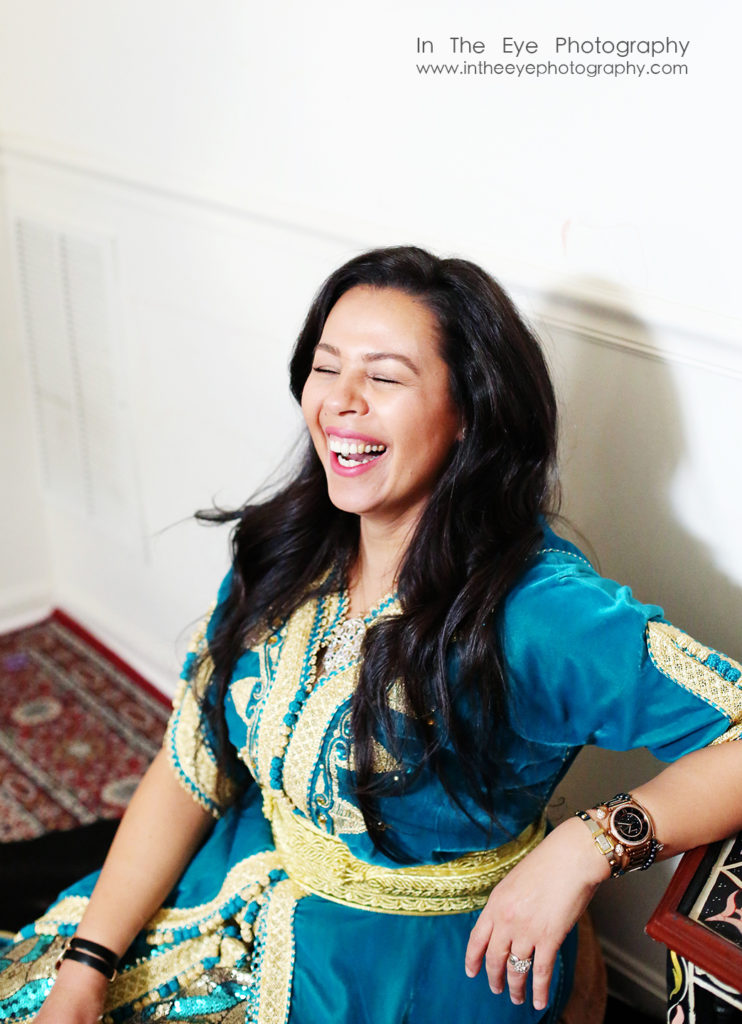 How's the life in Casablanca different from that of Kennett Square?
There is no way to compare the two. They are different worlds and each one of them holds a special place in my heart.
Casablanca in a sense represents my past that I will never forget. Living and growing in Casablanca among my family and friends is what shaped the person I'm today. It is sure a big city in progress with its own idiosyncrasies and challenges but to me it's perfect the way it is. Every time I talk about Casablanca I get an emotional melancholic feeling because it's where my family is, where all my memories and adventures are stamped in every corner and every street.
Kennett Square is home now. It's my present and it's where I'm making memories with my kids. It's for sure a smaller town compared to Casablanca which is the biggest city in Morocco, but it has its own charm and history.  Casablanca is a coastal city. I lived fifteen minutes away from the beach and I used to go to the shore at least once a week. I remember my dad taking us for breakfast every Sunday in one of the so many coffee shops and restaurants in the shore followed by a long walk to admire the ocean and get a nice breeze away from the polluted city.  Now instead of going to the shore I take the kids to The Longwood gardens in Kennett square and it's just a piece of heaven on earth. The scenery is just amazing and that's something we lacked in Casablanca. There are almost no green spaces in the city.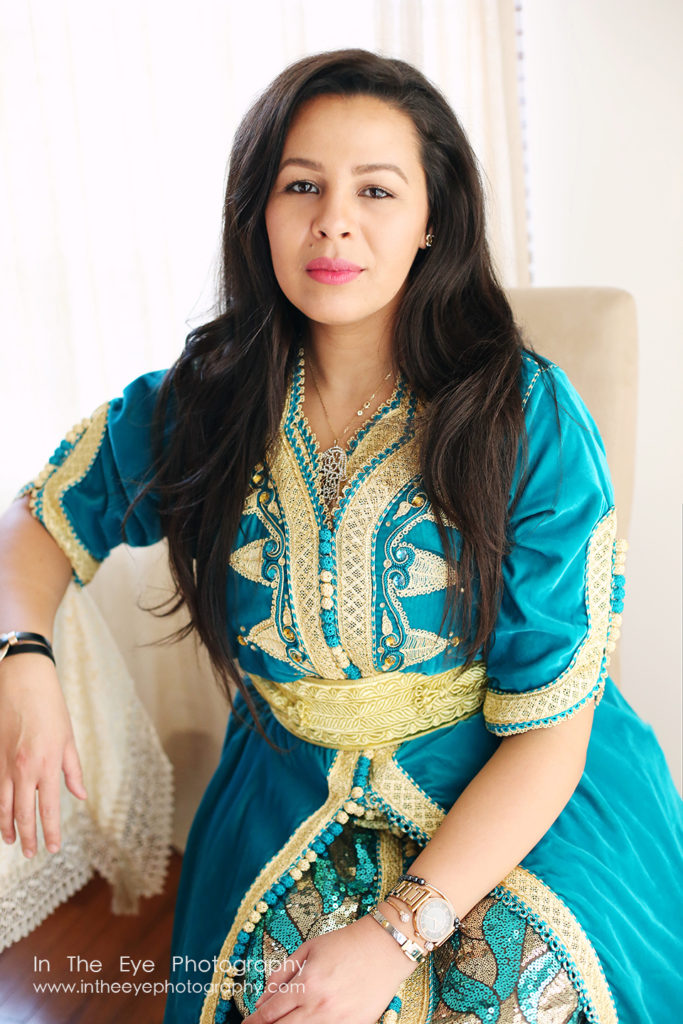 What do you think of Kennett Square?
I love Kennett square and we are so happy that we chose to purchase our first home in this town and to raise our family in a safe place. Kennett Square is very pretty with rolling hills and lots of farms where I can find a lot of local products to use in my cooking. There are Lots of local amenities and very diverse restaurants. What I like most about Kennett square is all the talented people that live in this town and I'm so happy that I got to know them either via Instagram or Facebook or met them in person, like my sweet friend and blogger Estelle stacy. She was one of the people that encouraged me to follow my passion for cooking and I thank her for featuring me in some of her videos posted on her blog.
You can follow Miriam's instagram: @everything_moroccan